What is it?
The Saturday Computing Experience introduces deaf and hard of hearing students to computers and computer programming in an accessible program. Students in the program will learn concepts and technologies that will enable them to solve problems with computer technology and programming. Project-based learning strategies, will be employed, that require students to work together and persevere over a number of weeks to reach the goal of solving a problem. Project-based learning is the kind of learning that students typically do in graduate school or when they move into high-tech jobs. Students will learn about careers in computing. There will also be fun physical activities that will reinforce computational thinking.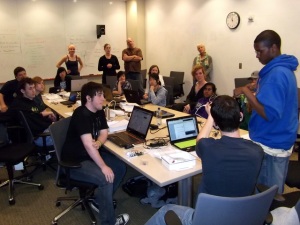 There are a number of wonderful curricula that will be used in the program chosen from the enrichment programs:
When?
Saturday, April 6, 2013 - Saturday, June 1, 2013
Where?
It will be held in the Paul G. Allen Center for Computer Science and Engineering (map) at the University of Washington.
Who can go?
Deaf and hard of hearing students aged 15 to 18 who are planning to go to college and are curious about computing careers are encouraged to apply.
To Apply
Apply here!
Deadline: 5:00 PM, Friday, February 28, 2013
Flyer
Get flyer here!
Questions
Contact: Rob Roth at robroth@uw.edu